I know you're probably thinking to yourself, "Oh wow. A Blog post from Karlee. She hasn't blogged in like 43 years!" Well, I know. I am guilty of not keeping up in the blogosphere but it hasn't been for lack of being productive! So much has been going on, and I wanted to take a moment to share the latest and greatest news with you all. First of all, remember how last year my quilt "Disparity" won first place in the Houston International Quilt Festival? Well, I created another competition quilt for Houston, and not only did it get in to the show, but I just got an email saying that it ALSO won a ribbon!!! Wow!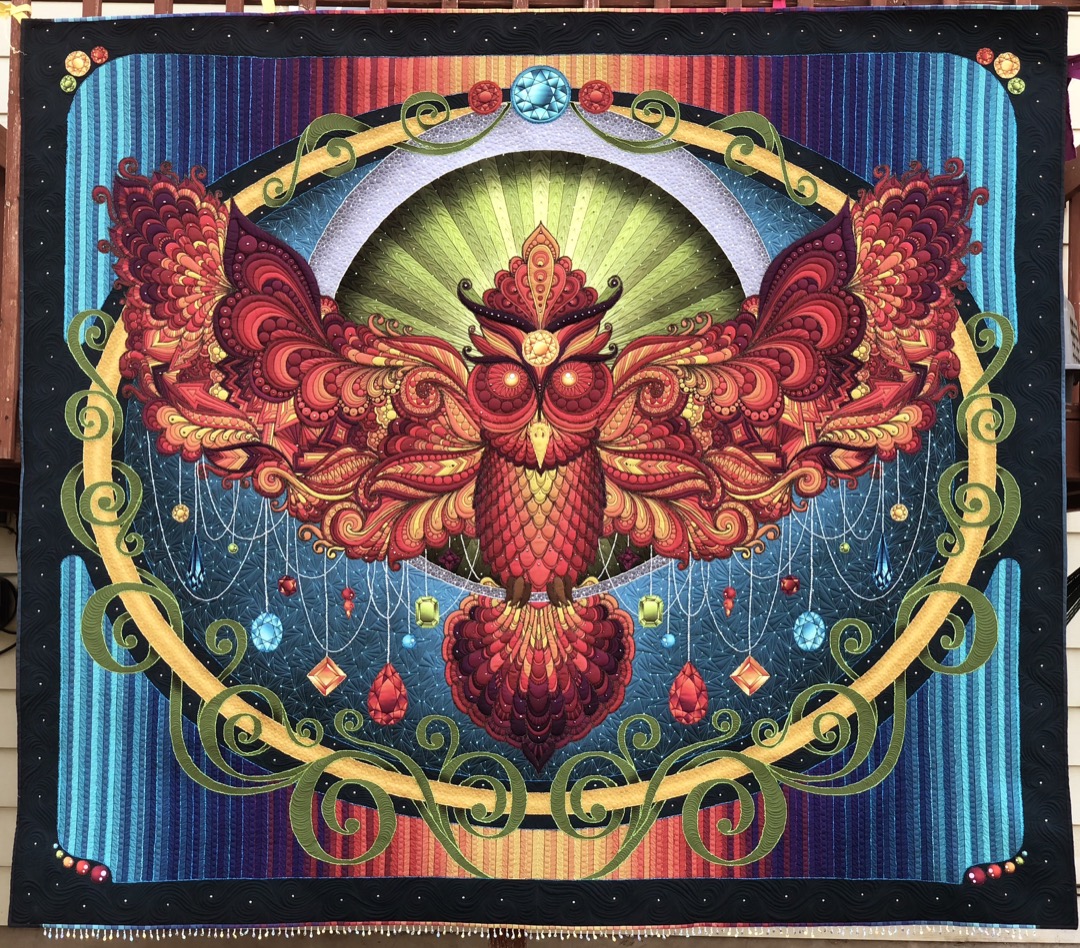 I named the quilt "The Royal Huntress" and I am just so so super duper fricken proud of it. For real. I even made this cool video showing the process of how the quilt came to be, and the logistics behind actually finishing the quilt. I could sit and try to type out all the things about this quilt, but you really just ought to watch the video. (I feel like even the video couldn't quite do it justice!)
Lately a lot of people have been asking me when and where I will be teaching in the coming months. While I do have a couple private gigs booked here and there, life as a mom is getting a little tighter and more difficult to travel and teach. As you may know, I have started teaching online, interactive quilting classes (and if you have taken a class from me using this medium I sincerely thank you. Seriously. It's my livelihood and I CANNOT express in words how much the support means to me.) And they have been getting more and more popular each year.
So, this year I am SO EXCITED TO ANNOUNCE (hence the all caps) that I will be offering 4 Online Master Classes this coming Spring 2019! 3 of which are BRAND SPANKING NEW (and then of course, Graffiti Quilting again because everyone loves Graffiti Quilting.)
I made a video talking about the classes that I've got lined up (I like making videos. Sometimes I just feel too long-winded to be a textual blogger) so check out this video for the full scoooooooop:
Welp there you have it!!! No rest for the weary, amirite?? I feel like I always have SO MUCH going on in my business, but I really, truly absolutely love it. I feel like there is no where else I would rather have a career than in this amazing quilting industry. I hope that you might consider taking one of my online classes. They really are so fun and I try my darnedest to make sure you have a good time, learn a ton of new things about quilting, and really get your money's worth bang for your buck. But hurry! Early-Bird pricing raises just a little bit each month. So the sooner you sign up, the more money you have in your wallet for your fabric stash!
If you have any questions or comments, please just leave them in the comments below.
Be great to each other,
-Karlee