Back in July I wrote a blog post about the quilt I entered into the Houston International Quilt Festival called "Disparity". (Click here to read the full story on this quilt.)
Well, I got it all shipped off to the show shortly after that. On September 21st, I got an email that said this:
And I was like:
It was so awesome! So then I had to decide if I was going to go to the awards ceremony or not. I kept on going back and forth and back and forth on whether I would go. My wonderful friend Jessica offered to let me stay in her Airbnb with her, and even bring me a carseat for Nate to come too, but then I was looking at plane tickets and they were a little steep, then I didn't know if I wanted to leave Nate at home, but I also didn't know if I wanted to bring him, and Andrew wasn't sure if he had enough PTO to take work off and yada yada yada… it was so hard to decide. Ultimately, I ended up not going to Houston this year, because the awards ceremony was on Halloween night, and I really didn't want to be out of town for Halloween because my family does lots of festivities… so I didn't go. I feel like the practical person in me didn't want to risk spending the prize money on a plane ticket to get there, but the ego in me really wanted to go and "make the appearance" and accept the award in person and have everyone clap for me, haha. So yeah, I didn't end up going.
Nevertheless, I had a WONDERFUL Halloween Holiday with my family.
Well, the awards ceremony was just last night, and I found out that my quilt WON FIRST PLACE in the Surface Design category!!! How awesome is that??? (I feel a little bit of regret for not going, now, but still! I am so happy and honored to be chosen for a 1st place ribbon!)
Even though I wasn't able to go, my friend Sarah was there, and she sent me a few photos of it hanging in the Winner's Circle Hall. After the ceremony is over, everyone walks around and looks at the quilts up closer, so that was really cool to see a photo of a bunch of people crowded around my quilt:
When I look at this quilt, it still blows my mind that it was digitally printed fabric, and not pieced or appliquéd. The power of technology blows my mind every day and I feel like the possibilities are endless! If you thought THIS quilt was cool, just wait until you see what I have up my sleeve for next year. (But, you're going to have to wait a little while for that one.)
I am so honored to have won this award, especially because I know how stiff the competition was this year. It is a bucket list dream of mine to win "Best in Show" in Houston someday, and winning First place in my category puts me well on my way. It may be years before I ever get to cross that off my bucket list, but it'll happen one day. I'm not going to give up.
To celebrate winning first place with this awesome custom printed fabric, I wanted to celebrate by offering ALL of my custom printed fabric designs to you at a discounted price. For the next 7 days, you can get 20% off ANY of my custom printed fabric designs. Use this code as many times as you like, and for as many pieces as you'd like! The coupon is good until November 7th, 2017.
The code is: celebrategoodtimes20
If you're not into the printed fabric, here is a coupon code for 25% off ANY books in my online shop. These books are great for quilters, but the coloring books also make GREAT gifts for kids. Christmas is just around the corner, so pick up some coloring books for that special, creative kid in your life!
The code is: ilovebooks25
In other news, I have been as busy as a bee designing computerized quilting designs and since it is the first day of the month, I just dropped 20+ new designs, all of which are on sale! (if you want them, get them now because they are also only on sale until November 7th!) Here are a few of my favorite new designs: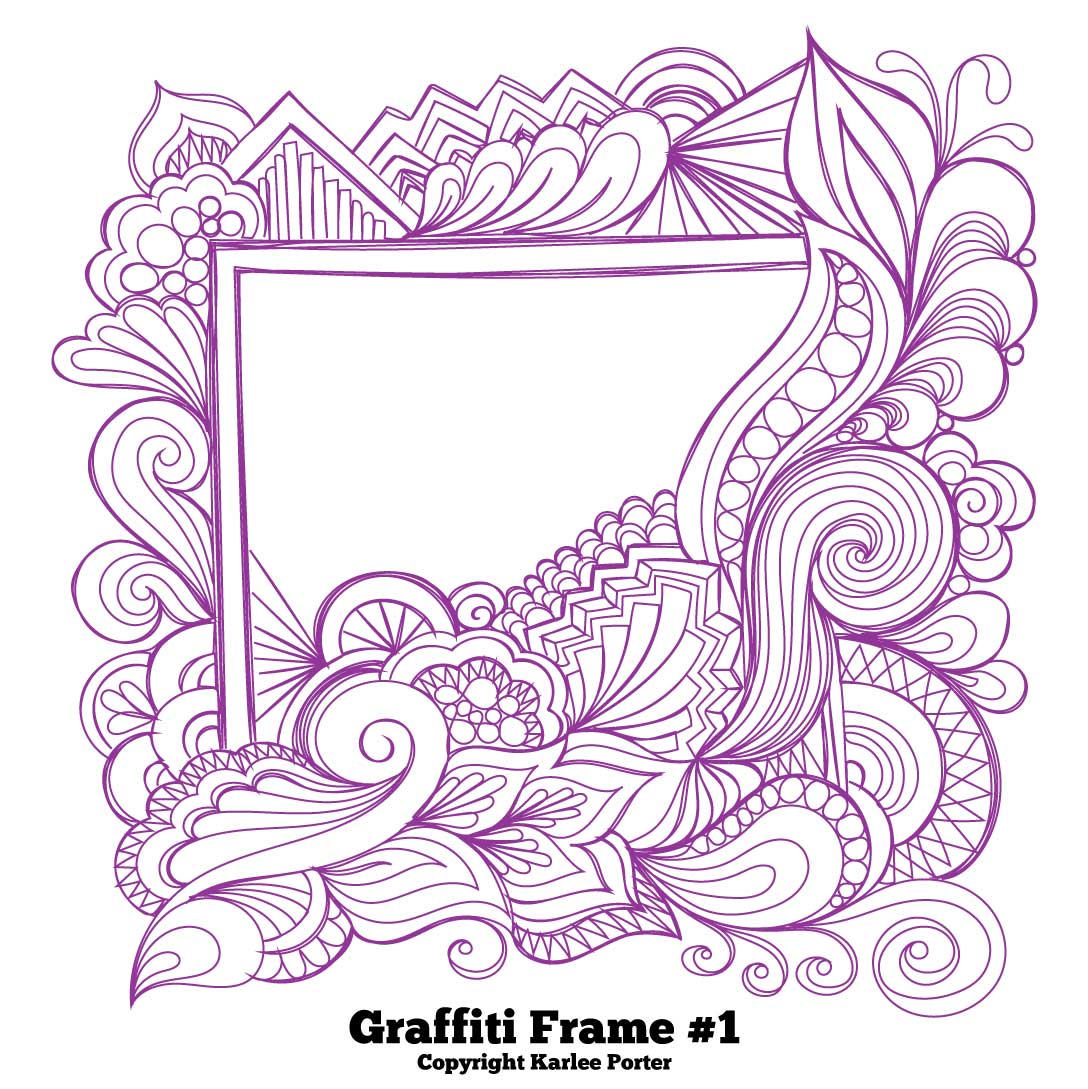 The Graffiti Frames are especially awesome to use as quilt labels, or you can add names, birthdays, or other special information and then frame it as a gift. I think I am going to make one with the words "Porter Est. 2009" and hang it in my own home! (The frames also come in all embroidery formats as well, which is super awesome!)
Here are some other favorites:
Finally, one that I am super duper excited is another design in my Graffiti Quilting Wholecloth series:
If you have read my previous recent blog posts, you may have heard me talk about my digital design loyalty club. Luckily, I have had quite a few new members join this last month, which is awesome! If you are one of those people, THANK YOU SO MUCH!
When I get requests for specific designs to create, the requests from my Loyalty Club members take priority. If you want to know more about the Loyalty Club, you can read about it here.
Well, I think that's all for now! The holidays are right around the corner, and I have SO MUCH TO DO!
Thank you so much for taking the time to read!
Be great to each other,
-Karlee