As some of you may know, I am a tiny bit of a hippie, and I love drawing Mandala inspired designs. I published a Mandala coloring book a couple months ago, and I had a ton of people ask me to make a Mandala design that could be used on a computerized quilting machine, or even an embroidery machine. So, I made a couple: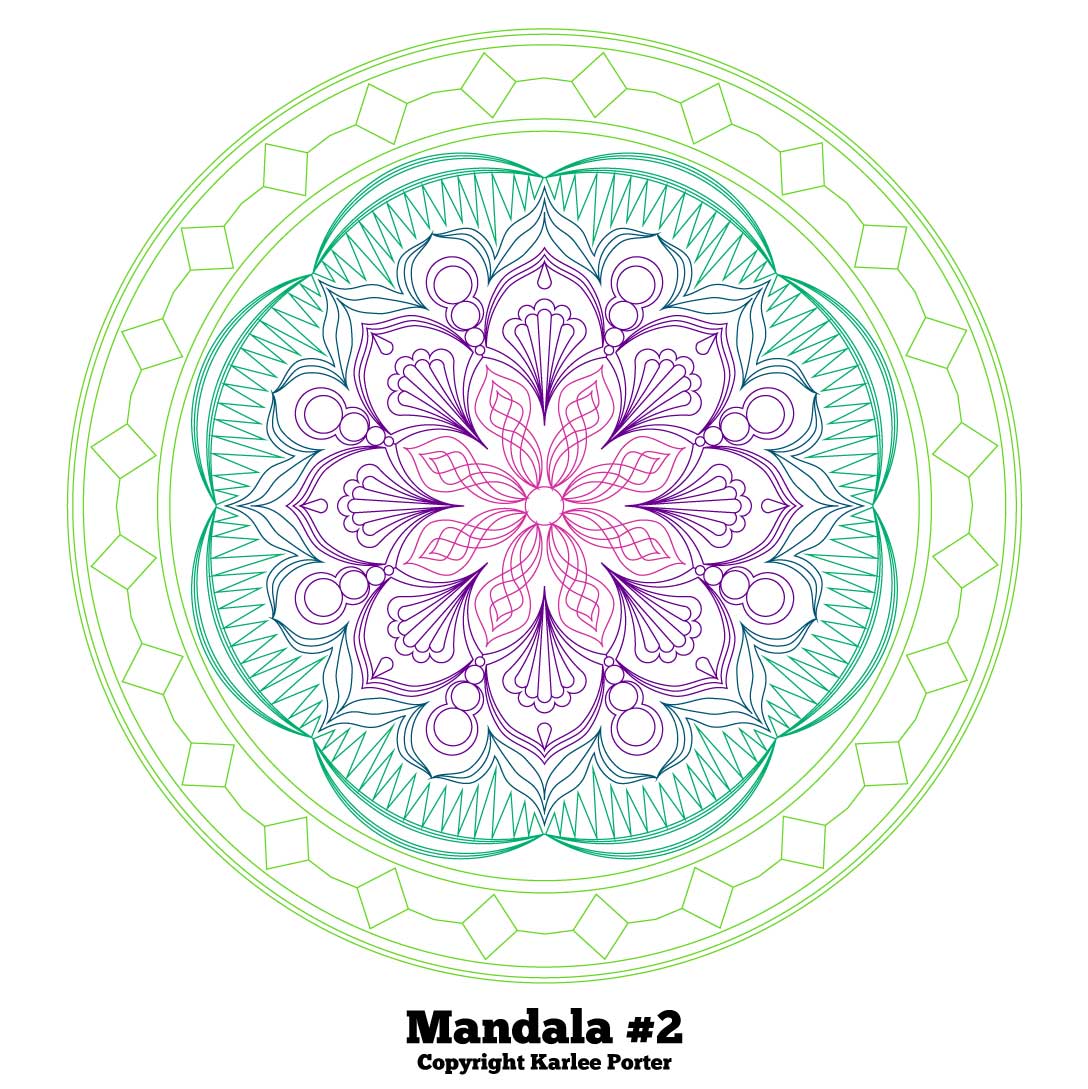 These were so fun to create (even though they were pretty time consuming to digitize) the end result was WELL WORTH IT! I even made this fun little box pouch after I quilted out the Mandala design:
Kinda cute, Eh?
It was so fun seeing people's projects as they stitched out these designs. Then, I started getting requests for not only more Mandala Designs to choose from…
But people also wanted to have some way to be able to square off the design, and make it in to a full block, instead of just a circle. Well, can you see where I am going with this? I may have gone a little bit overboard, but making these Mandala Designs may have gotten a tad bit addicting. So…. not only did I make 12 more Mandala designs, but I also created 14 interchangeable cornerstones that can be used with them!
Mesmerizing huh!
This was such a fun project to do, and I have to admit, creating a series this intense REALLY took my digitizing skills up another level.
(so expect more head-explodingly-awesome designs in the very near future.)
If you have either an embroidery machine, or computerized quilting machine, NOW IS THE TIME to grab up some of these awesome designs. They were just published on Oct. 1st, and they will be ON SALE until this coming Friday at midnight! So hurry up! All of the Mandalas are marked down from $30 to just $15, and all the cornerstones are $7 instead of $10.
Also, this is a good chance for me to tell you that I have decided that as I create new quilting/embroidery designs, I will save them all up and publish them on the first day of each month (which means they will be on sale for about a week after they are published.) So, if you want to get my designs for a smokin' good deal, peruse what's new during the first couple days of each month. And, if you want a CRAZY GOOD DEAL (so, better than smokin') then you should probably just sign yourself up for my Digital Design Loyalty Club. Being a part of this club gets you up to 60% off on digital designs every month, and you can use that discount ON TOP of the discount that the designs will already have upon publishing.
Woot woot! Yay for savings all around!
Finally, if you have bought designs from me in the passed, THANK YOU!!!! Your dollars are not financing a yacht fund or a timeshare in Malta. It goes towards diapers, and groceries, and other normal-people-who-need-to-survive-type-stuff. And it allows me to continue doing what I love to do, and helping my peeps make beautiful things, useful things, and warm quilts. ❤️
If you ever have any requests of a design you'd like to see offered in my shop, just leave me a comment below!👇 Let's keep making magic together! 😘
Be great to each other!
-Karlee