Hey you lovely people! I hope you all had a glorious Thanksgiving. I sure did. I just wanted to write a quick post and give you a little update on what has been going on lately…
As most of you know, I have been designing computerized quilting designs for quite sometime now. A few months ago, I found a way to streamline my process for digitizing that allowed me to adequately capture what my quilting is like when I do free-motion work, and I was able to turn them into computerized quilting designs. For a long time, the number one request I got was to turn my allover Graffiti Quilting free-motion quilting into a digital design. I was able to do this with quilting that would make mini whole-cloth quilts. I'm sure you remember these ones:
And while they are AWESOME and stitch out beautifully, they could only be stitched out to as large as the quilting machines throat space would allow. Everyone kept asking me to create a design that could be quilted across an entire, full size quilt, like these: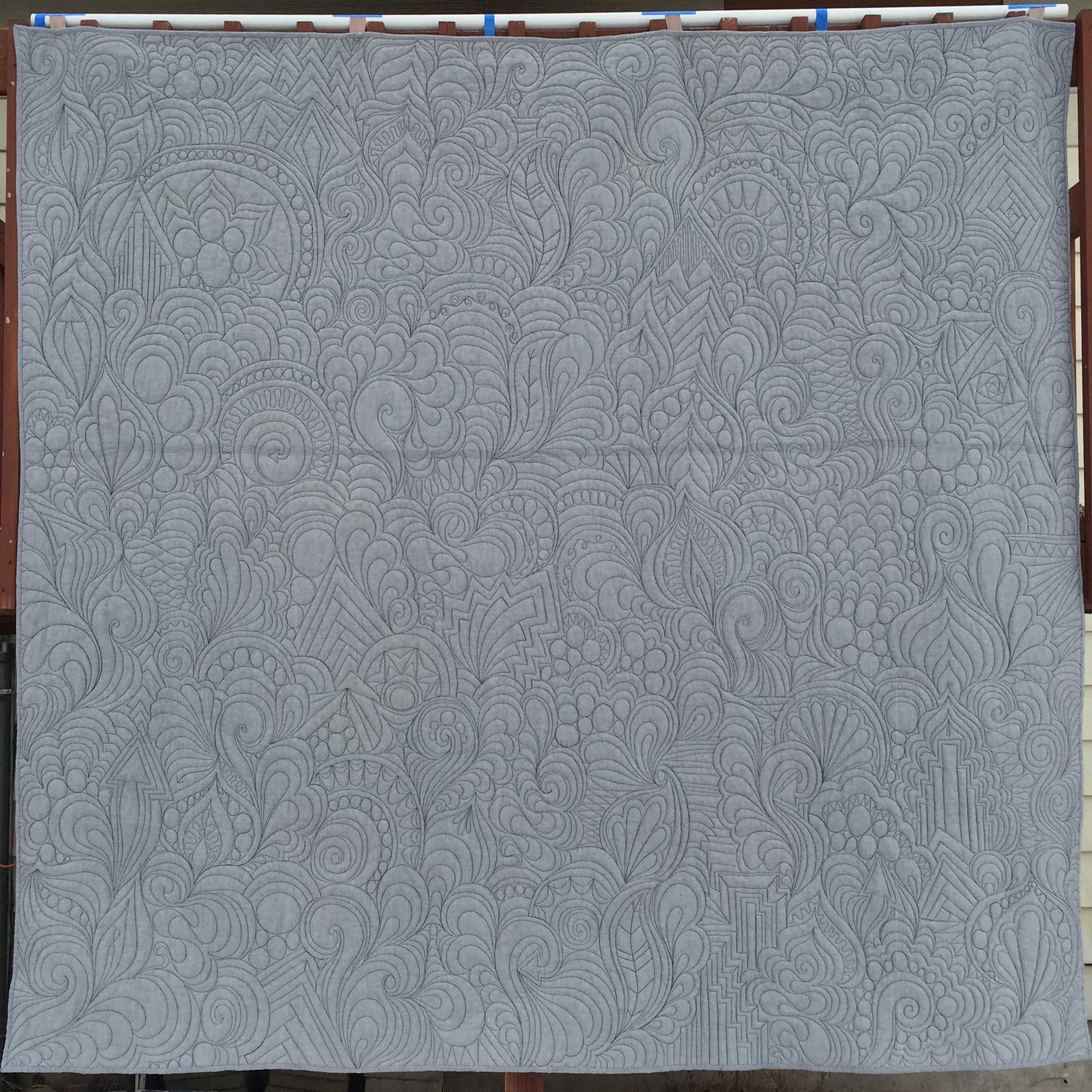 These are all full-size, functional, snuggle-able quilts. And I'll have to admit, I was apprehensive to create a computerized design in this style for a little while, for a few different reasons:
Creating a design that would nest so tightly (not only from left to right, but from row to row) could mean that the stitching process could be cumbersome.
If the quilt and rows and clamps were not all positioned correctly between rows, the design may become misaligned.
Having this design out in the universe meant that people would no longer need to hire me directly for allover graffiti quilting. Their local quilter could use this design and get the same effect.
The amount of time that it would take to create a collection of this magnitude would be such that I was worried people would not be willing to pay what the design would be worth.
So, you can see why I was a little bit apprehensive. However, over the course of MONTHS that I kept getting this request, I slowly got over each of those fears and decided to take the plunge! While I enjoy quilting for hire, I don't want to force people to have to work around my schedule if they want allover graffiti quilting. I also had to trust that my users really are smart cookies, and could manage quilting this design, even with the tight wiggle room of getting everything to nest and line up. At the end of the day, though, I just really want to share myself, and my talents, and be as accessible in the quilting community as I can possibly be. With having a baby, and knowing that I will want more children as time goes on, my life is only going to be more and more hectic. I don't want the Graffiti Quilting style to end with me. So, I created a collection that other quilters can use on their machines, and achieve that "Authentic, Karlee's Graffiti Quilting, Allover look."
(You can click the images to be taken to the product page)
This collection consists of 8 rows, all that nest together, and can be stitched as small as a mini quilt and as large as a king size quilt! I am so extremely proud of this collection. I poured my heart and soul into it. It took me a while, and required much more rigorous testing than my typical quilting designs, but it was worth every hour put in to it.  I also want to say that this design, while computerized, is not a "perfect" design. My goal was truly to capture what a quilt would look like if I were to do free-motion Graffiti Quilting across it. I am not perfect either, but I am still so proud to be who I am. I want this design collection to reflect that.
Another very large factor in my decision to release a collection like this is that as a small business owner, I know how hard it is to run a business and keep a competitive edge. While this collection may be priced a little higher than my other collections, I feel that it is worth every penny, especially when you quilt for hire. Having the ability to offer a design as unique, intricate, and down right awesome as this one, will pay for itself many times over. Graffiti Quilting is my number one request for free-motion quilting clients, and I really think it is something that can help give a local quilter a competitive edge. It may be an investment, but I really believe it is a worthwhile one.
I felt like when I was grappling on whether or not to publish this design, I was afraid that if I did, I would not generate as much business if "any quilter could do what I do", but I have come to learn time and time again that in the quilting industry, we truly all rise with the tide. When one of us is successful, we are all a little more successful.
I really love this design, and I hope you will give it a shot, too. (By the way, it is 75$ OFF until December 9th. So if you want it, it is the CHEAPEST IT WILL EVER BE, right now!)
❤️
In other news, I am super happy to announce that I just got a new plugin for my website called "Dynamic Pricing". This means: NO MORE COUPON CODES REQUIRED FOR GOOD DEALS!!! Woohoo. I know I usually sign my blog posts with some coupon codes. Well, now, you don't even need to remember those. When I do promotions and sales on products, all you have to do is add them to your cart and it automatically changes the prices accordingly. Woot woot! You know what this means?? Easier pricing set ups for me means MOAR discounts for you!
So, here is my first dynamic pricing is BOGO Books! This means ALL BOOKS on my website are buy one get one free, now until Christmas!
Thanks again for supporting me and following my work. I hope that I can continue to create pretty things for you, for years to come!
Be great to each other!
-Karlee