So, I have some big news! Andrew and I are expecting our second child!
And, suffice to say that a big part of my nesting process (And I know this from my first pregnancy) basically only comes in the form of quilting! Haha. I made 3 quilts just within the last month, all for babies, and I wanted to share them with you.
The first one is about a baby that left this world much too soon. If you have been following my blog for a long time, you may remember the story about this quilt that I made for my close childhood friend, Kaelyn.
A lot has happened in her life since that blog post (losing her first husband, meeting and marrying a wonderful new man, moving across country, and working hard to start her baking business), and when we both found out that we were both pregnant AND due within a month of each other, we were both just so over the moon excited for each other. We talked about birth plans, natural birthing methods, and the best new baby products. I am so so saddened to say that at 39 weeks, she went into labor but the baby didn't survive the birth.
When I found out this news, I just sobbed. Being only a few weeks behind them in my own pregnancy, I couldn't help but just double over in sadness for them, and trying not to imagine what that must feel like for them to go through.
As many times before, when I have felt so incredibly helpless watching sadness happen to people I love, I feel like The Spirit always guides me to action through the form of quilting. So that is what I did.
I got to work designing a piece of fabric for a quilt for Kaelyn and her Husband. The words that just kept coming to my mind were "Families are Forever". So this is the design that I made, and had it custom printed onto fabric at about 68×80 inches:
And then I hit the ground running to get it ordered, bought a super soft fleece blanket to use as the backing, and waited for the fabric to arrive (I did expedite it because I knew I needed to finish the quilt while Kaelyn was in town.)
The only problem was I couldn't decide what quilting design to do over the top of it. I just couldn't think of one of my existing edge to edge designs that would be just perfect. The night the fabric arrived, I was laying in bed just thinking and praying about them, and once I dozed off, I dreamt about an exact design and how it should look. My eyes burst open, and I grabbed my iPad and hurried and drew out the design before it escaped me. And this is what the design ended up looking like…
And it just felt perfect. The next day, I got the quilt loaded onto my frame, and started quilting it out…
I used a layer of Warm & Natural batting from The Warm Co. This is my go-to batting for pretty much everything.
I used my favorite go-to quilting thread, Sulky Invisible thread. (I buy it in the 24,600 yd cone because I use it THAT MUCH.) I just love how it adds all this beautiful texture but doesn't detract from the fabric one bit. The quilting looks so awesome on the fleece backing as well…
It just blends perfectly. I bound it in black fabric, and I was able to present it to her and her husband (Along with a couple other gifts that I thought they would like) and it was such a tender moment to share with them. They are such strong, amazing people, and I just admire them so much.
I know that making them a quilt by no means really changes anything that happened, or replaces anything. But, I just made it in hopes that it would possibly bring them a little bit of comfort and peace, especially when they would read the words across the front of it- "Families are Forever" ❤️
The second quilt I wanted to share with you is another one, for another baby that is ALSO due right around the same time as my sweet little baby. This quilt is for my friend Rachel Rossi. Rachel and I met in 2018 at Houston International quilt festival and both being young professionals within the industry, we hit it off immediately. We were able to grab dinner together one of the nights, and learned that we have so much more in common than just quilting. We both love being business owners, we both have background in design work, we both had a child the same age (hers a girl and mine a boy) and we both love God and are devout Christians.
When she announced her pregnancy, I reached out to her to congratulate her, and told her I was pregnant as well, and it was so crazy that again, we would have babies very very close in age! That was so fun. She will have 2 girls and I will have 2 boys. So we decided it would be fun to do a quilt swap! So here is the quilt that I made for her and her on-the-way-baby…
And this one was SOOO FUN to quilt! I knew that in all that negative space I would do Graffiti Quilting, and it turned out so great. In fact, I recorded the entire process of making this quilt, so watch the video on YouTube. Here are some still shots of the quilting process. I wanted to use a little bit lighter thread than the navy background so that the quilting would should up a little bit, but still coordinate with the negative space…
I really love how this quilt turned out, and I did a super soft backing on this one as well. When Rachel opened the package, she thought the quilt was pieced but it totally wasn't! I really really love creating quilt top designs digitally, having them printed, and then just throwing them onto my quilting frame right away without having to worry about a single seam.
This one was seriously so rewarding to pull off the frame… And of course the minute I did, Lola thought I had set it up just to take a picture of her…
That texture though, right?? Then I bound it with a scrappy binding style with bright colors. I really just love how it framed it in.
Rachel has made me a quilt as well, and it is on it's way as we speak! I can't wait to see it and I will be sure to update this blog post after I see what gorgeousness she has in store for me!
The final baby quilt I wanted to share with y'all is one that is so so incredibly special to me, because it is a quilt for my own baby boy.
In 2017, when I was pregnant with Nate, I was taking a Natural Birth class and the teacher gave us an assignment to make a piece of art that could kind of just remind us of the experience we were going through being pregnant and preparing to add a child to our family. And naturally, I made it in quilt form. So, what I did was created (again, did this digitally and then had the fabric printed) a design that I knew I could save some room for, and then when the baby was born, I would place him in the center for a photo. And it turned out so cute!!! This is Nate on the day he was born, back in 2017.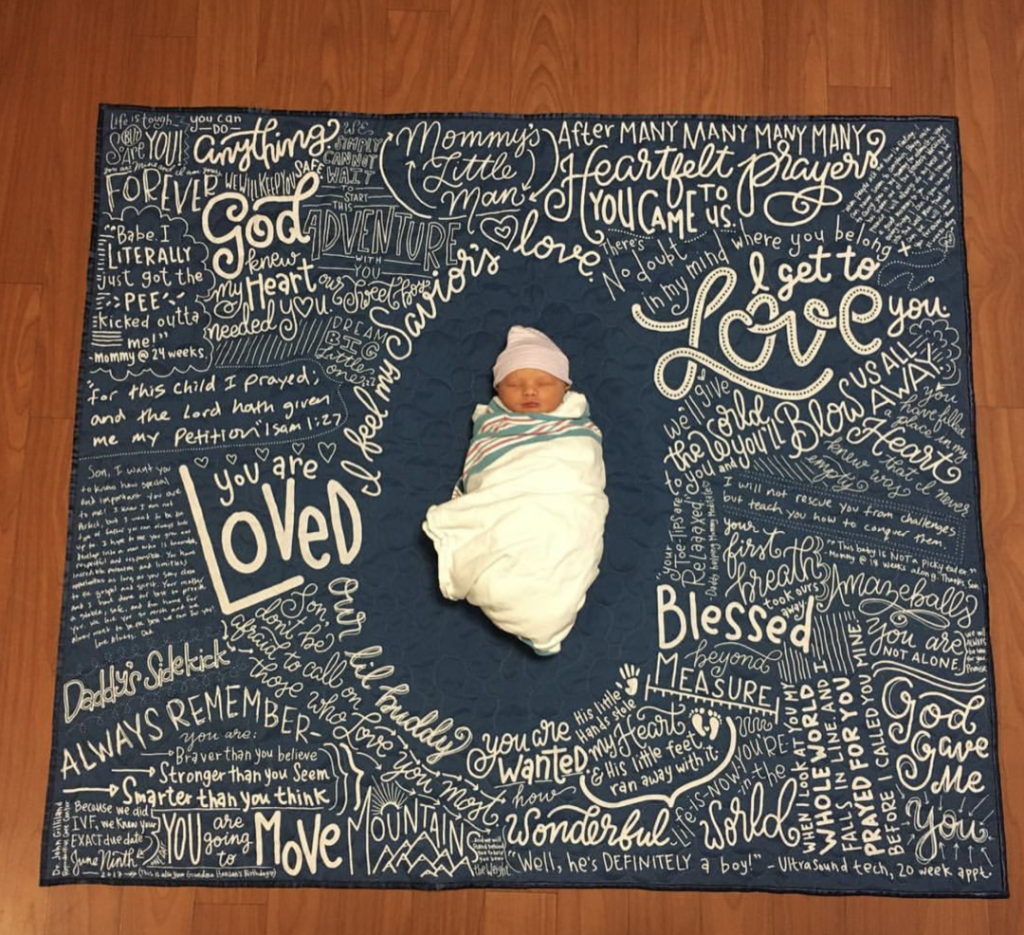 So, I wanted to make this into a tradition where each child that I have, I would create a similar quilt that would serve as a "receiving quilt" at the hospital. So, this is what baby #2's quilt looks like…
When I have this baby, we will do the same thing- lay him in the center and take a photo. I am so incredibly grateful to God for allowing me to be a mommy. And as I write this post I am just overcome with so much excitement and anticipation to bring this sweet little spirit into the world- to love and protect, and to teach him how to love God the way Andrew and I do. ❤️
The other thing that is really fun about these quilts is that after we name the baby, we will add his first initial as a monogram right in the center of the circle, just like we did with Nate's. I hope that this quilt will be an awesome keepsake for our children, and as they learn to read, they will be able to start to pick out all the little notes that we have written for them. They will be reminded of how much we love them and how much God loves them. I just feel so incredibly grateful for my little family.
Thank you for taking the time to come on this journey with me.
Be great to each other,
-Karlee