So…. there is this really awesome online platform for quilters, maybe you've heard of it. It's called "The Quilt Show" and it is basically the Netflix for Quilters. Well, last month, Alex Anderson and Ricky Tims (the hosts of the show) asked ME to be a guest on the show!!!
This was such an honor!
The show is shot at the Comcast building in Centennial Colorado. I just live on the other side of the Rockies, in Northern Utah. So I decided to make a little road trip out of it. This was actually, now that I think about it, my first solo road trip. I mean, the furthest I had ever driven by myself before this was about 3.5 hours to Roosevelt, Utah for a quilting retreat.
So, on Saturday morning I loaded up all my stuff into the car and headed out. It took about 8 hours to get there. Not too crazy. I listen to a couple books on Audible on the way. I started a book called "The Rent Collector" but it ended up just being way too depressing so I didn't finish it. Then I listened to a book called Michael Vey. It was a little bit juvenile. But it was written for tweens. Lol.
The trip was long, and somehow tiring and relaxing at the same time. Is that sort of mentality just something that comes along with motherhood?
Finally, I got into Denver on Saturday evening and arrived at my sweet friend Emily's house. I wanted to spend some time with her while I was in town.
On Sunday morning, I went to church with Emily and her 8 children. It was really enjoyable. It felt like home. Then, that afternoon, I headed to the Comcast building to meet up with the crew and get all my stuff set up for Monday morning, when I would be filming.
The next morning when I got there, I was really nervous but the whole team from The Quilt Show very quickly made me feel at home. They hung all my quilts for me, and we walked through each segment that I would be filming and what it all entailed.
Normally they only give each artist 3 segments to work with. But Shelly, the producer, loved me so much that she let me have 4. So the first segment was a show and tell in the lounge area.
And in this segment I talked about how I got started, and shared some of my adventures along the way… like that time one of my quilt tops got ripped in half by the quilt police.
In the next segment, we talked about my signature free-motion quilting style, Graffiti Quilting. I filmed this segment with Ricky. He is such a sweet person.
On the third segment, I talked all about my love for hand lettering and my new book "Hand Lettered Quilting". This segment was with Alex. I showed her my sketchbooks, and all the terrible work that I did before I got any good at hand lettering. We've all been there right? Most of us just don't show it on camera! Haha.
For the fourth and final segment of the show, I was able to do couching demonstration. That was really fun!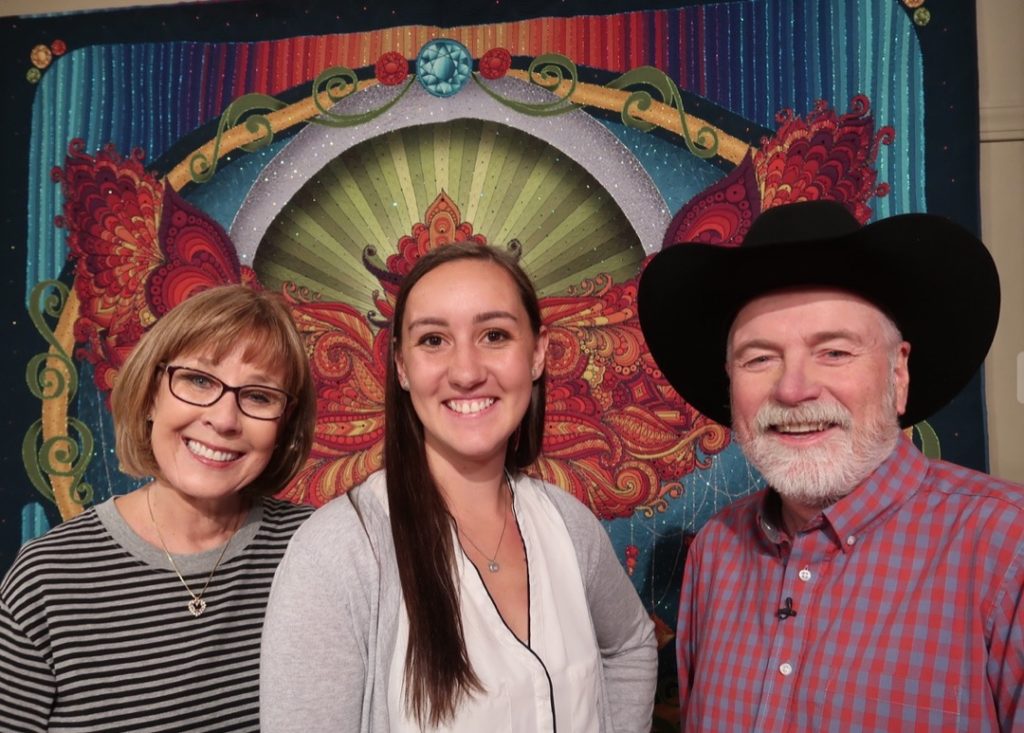 All in all, I really just had such an amazing time! The audience was so great, and the hosts and crew were amazing too! I just felt so loved and taken care of!
If you want to sign up for a The Quilt Show subscription, I believe they have a promo going on right now where you can get a bonus 2 months for free when you sign up for the yearly subscription! Go check it out now!
I will be sure to write another blog post when my episode finally does air, which should be sometime next Spring? We will see!
Be great to each other!
-Karlee