Hello buddies!
It's the beginning of a new month, you know what that means! NEW COMPUTERIZED QUILTING DESIGNS! I am so super duper fricken' super excited to show you this latest collection. But, let me give you a little background first…
In about 2013, I was being really super experimental in my free-motion quilting (that experimentation is what lead me to creating and writing the book on Graffiti Quilting.) As I was experimenting with Graffiti Quilting and the many different ways I could use the same technique with different formulas, one formula I came up with was this:
-Start at the bottom of the quilt
-Quilt a symmetrical flower petal type design
-Add designs on both sides, filling in the entire first row
-On the sides of the designs, add sun rays
-Fill in the remainder with pebbles
-Repeat.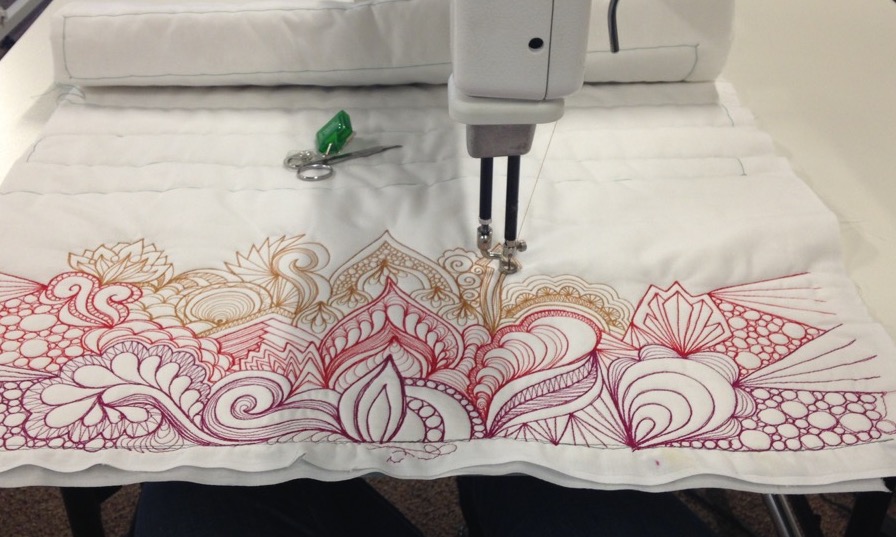 As I used that formula, this quilt was born:
The center of the rows reminded me of those Russian Style cathedrals, so I named the quilt Russian Mosque.
Well, this month, I decided to create a collection of digital designs that are inspired by Russian Mosque, and it turned out crazy cool. Check it out:
Getta load of that mindblowingly awesomeness! This digital design is very similar to the Allover Graffiti Quilting design that I released a couple months ago, in the fact that because it is stitched out in rows, you can stitch it as small as about 10″ wide (for a wallhanging) all the way up to a King size quilt (provided your machine's throughout space is deep enough). Oh, also, this collection includes all the formats for embroidery machines (at 10″ wide). It consists of 11 rows that have a jump stitch between each row to allow you to change colors. I love it so much. If you love it too, HURRY AND BUY IT WHILE IT'S  ON SALE!!!!! The collection will normally be $125, but it's on sale for only $75. BUT only until March 10th. So right now it is the cheapest it will ever be.
I am really so so proud of this collection. I feel like making the goal to release new designs every single month has really set a fire under my toosh to push myself and the limits with my digitizing process and the capabilities of technology. The possibilities are limitless.
Speaking of technology, I find myself being more and more attracted to all the amazing things we can do with it, everyday. Remember how last year I taught an ONLINE master class for my Shimmering Symphony quilt?
Well, that format worked out so well that I have decided I am going to teach a couple online classes again this year! If you missed my blog post from just a couple days ago talking all about it, give it a little gander.
Anywho, thank you so much for reading. I feel like I can't say this enough, but as an independent artist and small business owner, I could not do this without y'all. ❤
Be great to each other,
-Karlee