I have been so productive lately! I feel like everyday I am working on something different, but it is all just so fun! I am super grateful to have a baby that likes being my little side kick while I work. The hum of my quilting machine puts him right to sleep! I have been digitizing designs in a new way, and since my new process has been so awesome I have just gotten addicted! (check out my previous blog post to see what I mean).
So, I wanted to show you some NEW DESIGNS that I just created! Also, they are on sale until next week so get them while they are hot and cheap!!!
The first one I want to show you is my new "Most Majestic Lion" Collection. This design was inspired by a quilt that I free-motion quilted about 5 years ago on a piece of fabric that I dyed in college:

A few years after I created this quilt, I decided to digitize the design without all the fillers in the mane (because at that point in time, I was pretty slow at digitizing and even just the outlines took FOR-E-VER) and I named it Majestic Lion:
This digital design was super awesome because it was BEAUTIFUL on functional quilts (I made a baby quilt for a co-workers daughter)
But it was also a great design for people that wanted to sharpen their free-motion quilting skills. They would stitch out the lion, and then go back in and fill in each lock of hair with various fillers.
So, back to my main point, once my digitizing skills and process got much more efficient and in-depth, I decided to revisit this design, and actually re-digitize it to include all those beautiful filler designs that I had done in the original, hand-dyed quilt.
Once this was done, I wanted to make sure that those who used this design also had the option of having an actual finished whole cloth quilt design, much like my other new whole cloth designs. The only problem was, I couldn't settle on which background filler to use. So then I figured, why not just do all of the fillers?? So I did.
Aren't they pretty??
So, I am soooo excited to announce that this "Most Majestic Lion" collection is now available here and includes all FIVE designs in the collection in BOTH quilting and embroidery formats!! Woohoo!
Along with this Lion collection, I also created my third Graffiti Quilting whole cloth design in the "Karlee's Graffiti Quilting Wholecloth" series.
With the first and second designs in this series, a few people were concerned that the stitching might just be a little bit too dense for their quilting of embroidery machine, and so this design is a little bit less dense, and only has 2 color sections in it instead of 4 to 5. I plan to keep making various designs in this series that are different levels of intricacy and density so that hopefully each quilter will be able to find one or two that they like. I really enjoy creating these more intricate designs, and I love stitching them out even more!
For those of you that are not computerized quilters, I have some other exciting news…
I JUST PUBLISHED MY 3RD COLORING BOOK! This coloring books theme is "Mandalas" and I think it turned out really awesome! Take a look:
Also, I have been so into Mandalas lately, I even digitized a couple!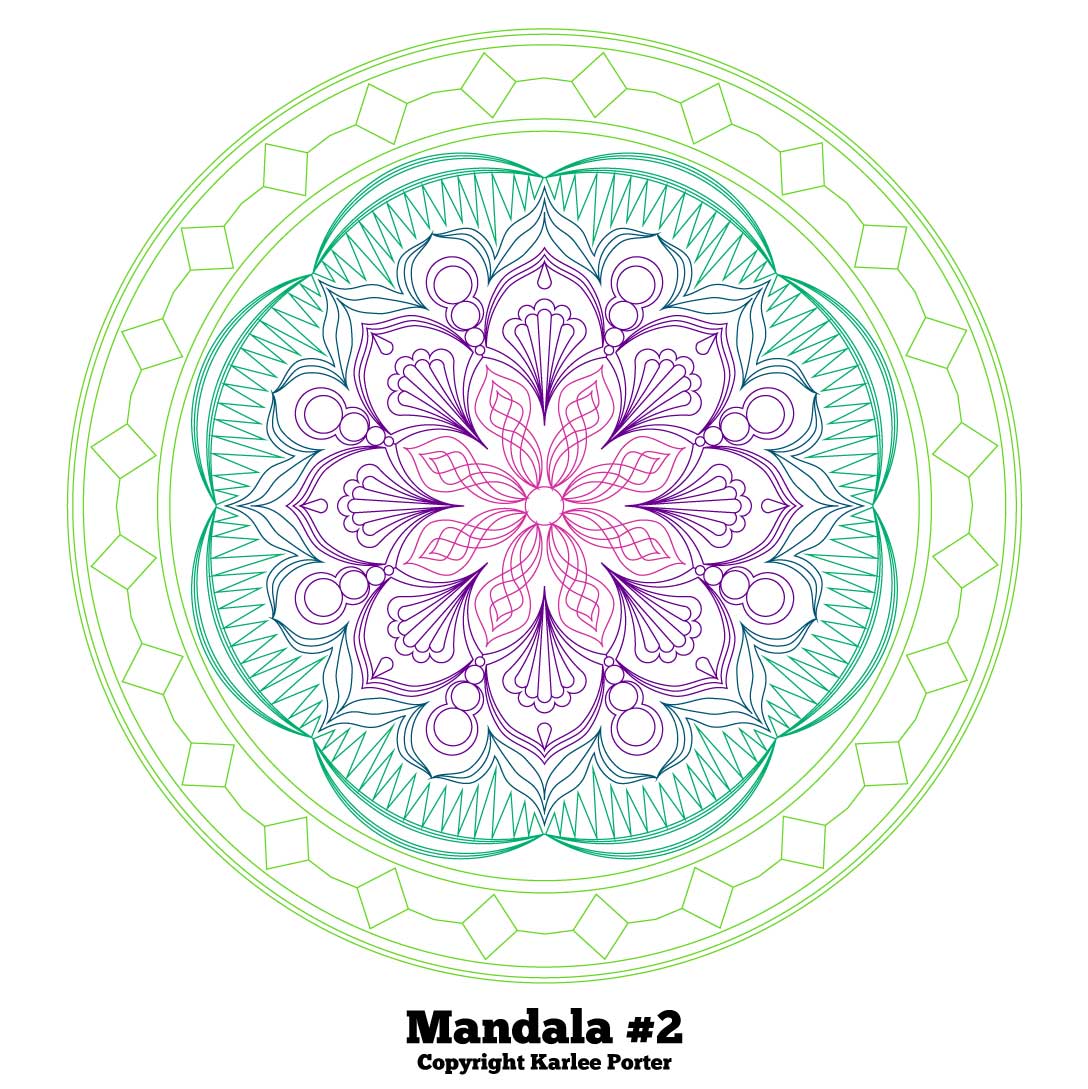 (And these are also available AND ON SALE right now! Just click on the image to be taken to the product page)
Finally, to celebrate the launch of my new book, I am running a super fun promotion. The first 25 people to order a custom printed tapestry from my shop will get a signed copy of my newest coloring book, ABSOLUTELY FREE! You don't need a coupon code, or to even add the book to your order. It will just be in your package along with your tapestry! Also, you can get your shipping and handling for free if you just go ahead and use the code: shipmethisforfreeplease
If you'd rather just pick up the book by itself, feel free to still use the free shipping code. It will work on any order of books, or tapestries for the next 7 days. (Expires Sept. 7th at midnight MST).
Finally, and most importantly, in the devastating wake of Hurricane Harvey which hit Southern Texas last week, I am gathering a bunch of my original art, as well as digital design stitch-outs and auctioning them off to support the victims who were displaced by the catastrophic storm. Because each piece is one of a kind, I will not be listing them on my website, but selling them off directly from my social media accounts.
s
This photo is just a small amount of what I have in my stash. Each day I will be posting a few things in hopes that I can provide even a small amount of relief for those in need. You can find my on IG under the handle @KarleePorterDesign and my Facebook page is also called Karlee Porter Design. All profits from these sales will go towards this effort.
Thank you so much for reading, and supporting my work. It not only allows me to keep sharing what I love with the world, but also allows me to help others in their time of need.
Be great to each other!
-Karlee