Hey everyone!
So last time I wrote, I talked about my quilt The Royal Huntress, and I was waiting to go to Houston International Quilt Festival to find out what the results of the competition would be. Well, I went, and here is what happened…
Well there you have it folks! When I originally entered my quilt into the competition, I entered it into the "Surface Design" category, which was required because the fabric was custom printed. It could have easily gone into the whole cloth quilt category, or especially the embellished category. Anyway, I guess the judges felt that it would fit better into the "Alternative Techniques" section of the competition (which, I'll be honest, I didn't even know was one of the categories! haha)
This tall drink of water who presented my with my award is Steve Jeffery, he is the President of Baby Lock company. He is such a special person to me because he actual purchased my 1st place quilt "Disparity" right off the show floor last year! So I was extra honored that not only did he present my award this year, but I am happy to say that he and I are good friends. He has been such a huge supporter of my work, and it made me feel so good when he told me that "Disparity" is happily hanging in their education center for many eyes to enjoy. He is a wonderful man and Baby Lock is a great company.
With the risk of sounding like a diva, I will say this about the competition: I honestly was hoping that this quilt would do better in the competition than it did. I won first place in my category last year with a quilt that had all the same techniques (graphic design, custom printed fabric, quilting, hot-fix crystals and couching) and this quilt had all those techniques plus hand beading and was larger and much more intense than last year. BUT, I also know that every single competition is super subjective and totally depends on the judges. So, at the end of the day I was still so so happy to be there, and to have my quilt hang in the show with a ribbon on it. I honestly thought that this quilt would be my second opus (Shimmering Symphony) being my first, and maybe it still will. I do want to put it into other competitions throughout the next couple years. But, in the meantime, I am just happy that it's back home with me, and this coming February and March, I will be using it as my main class sample for The Royal Huntress Online Quilting Class that I'll be teaching. (Speaking of, if you want to take this class, use the code 35hqf18 for 35 dollars off the tuition price.)
One other thing that was so fun while my quilt hung in the show was that I got to talk to so many people, and tell them about the process of how the quilt was made. I would show people the fabric, and what it looked like before all the quilting was done, and most people could not believe that the quilt was a whole cloth. At one point, I even got to do an impromptu presentation to a field trip of 7th graders that were viewing the quilt exhibits. That was so fun to talk to them about my passion for quilting!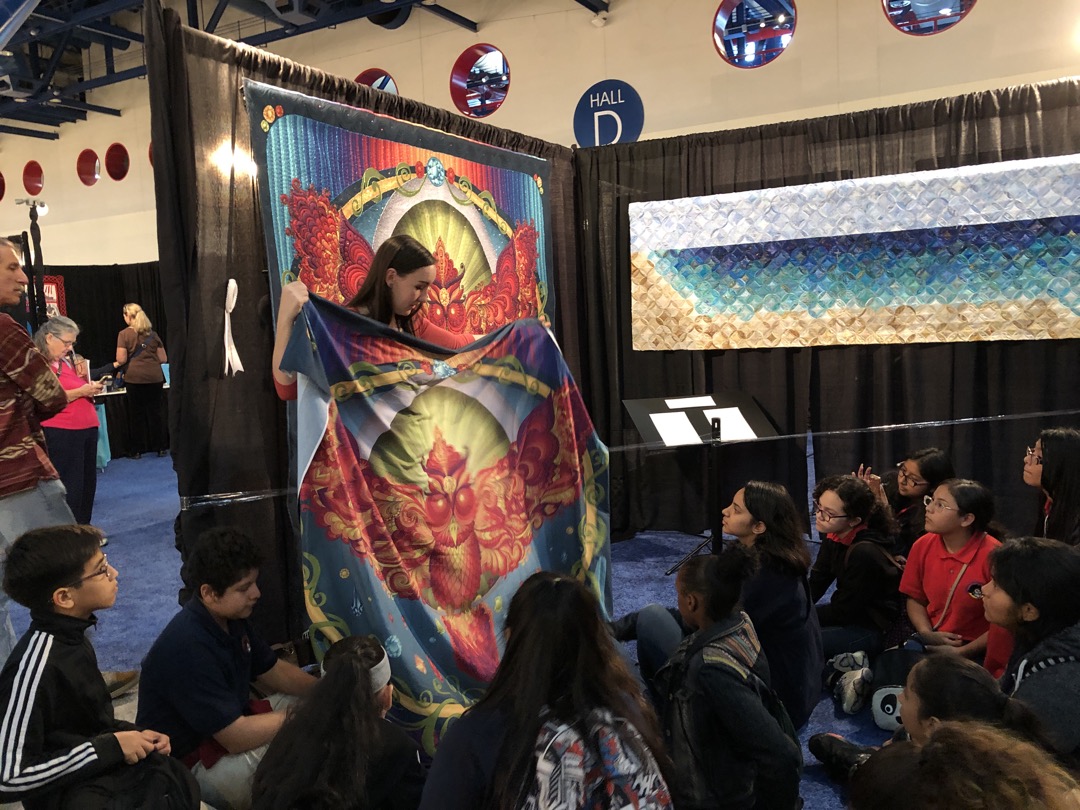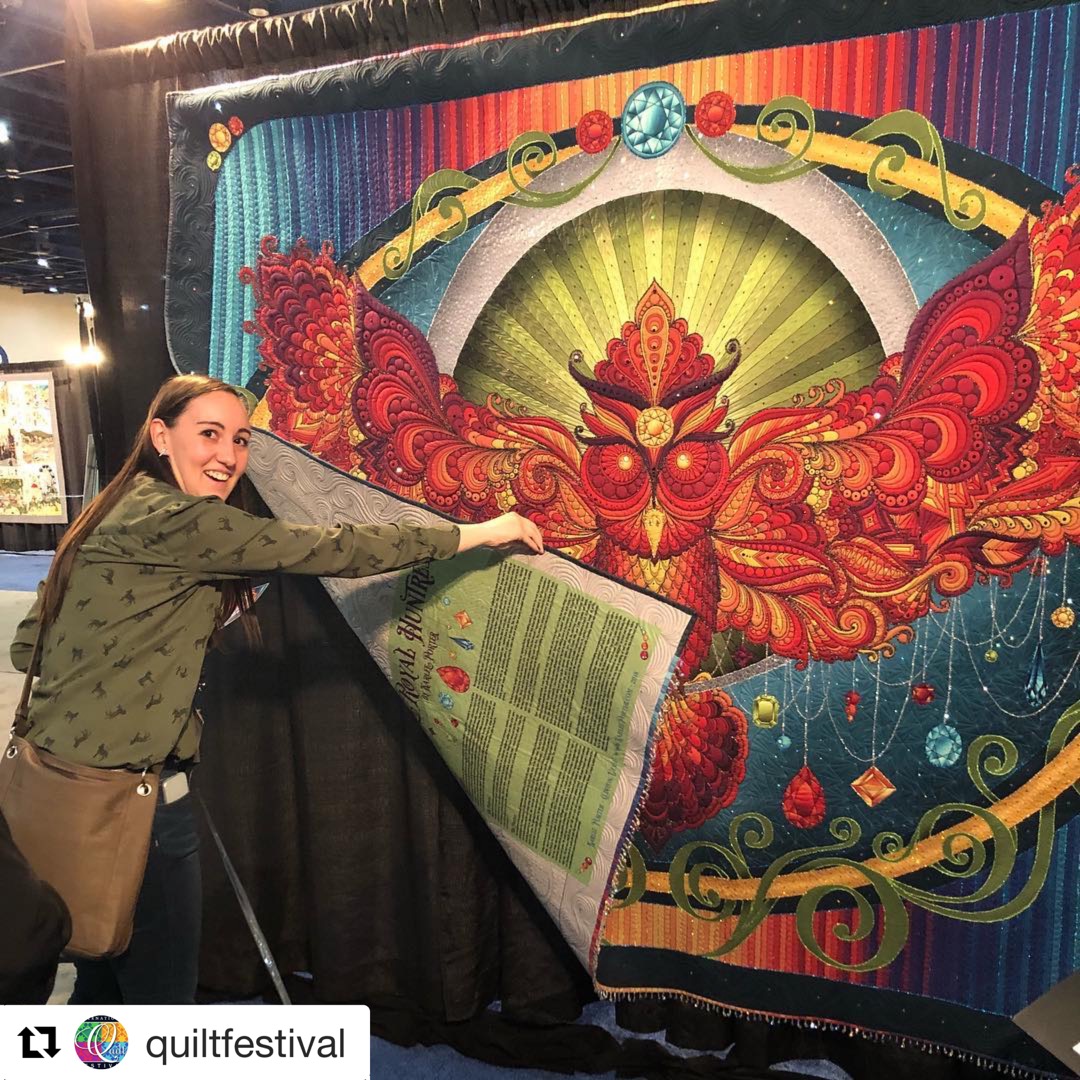 The tag on the back is also custom printed fabric, and includes the whole story and process about the quilt. This way, no matter where the quilt goes, the story will go with it.
So all in all, I am so proud of how this quilt turned out. If you'd like to check out the whole process of how this quilt was made, check out this blog post and watch the video.
Something else totally amazing happened while I was in Houston for Quilt Market and Festival…
I LAUNCHED A BRAND NEW COMPANY!
If any of you follow my social media, you may have heard this already. But, just like with "The Royal Huntress" quilt and my "Disparity" quilt from last year, I have been using custom printed quilt tops for a very long time now. So, I decided that 2018 was the year to take this whole idea to its very own platform! and that is how Honest Fabric was born!!!
Honest Fabric specializes in custom printed quilt tops with the guiding principles of American Made, Fair Trade, and Eco friendly. I hope you'll take a moment to read the introductory blog post and learn more about it. It is a community of artists and designers who all have the same goal in mind- produce beautiful artwork that will make beautiful quilts! We are adding new designs every single day!
I am sure you'll be seeing more about this whole thing in the months and years to come! And, if you'd like to check out the fabric and order your own custom printed quilt top, I would love for you to use the code 'tenpercentplease' and that'll give you 10% off your entire order. 🙂
Well, I've got so much work to do! My online classes starting in February are still open for registration, I'm getting more and more door prizes all the time for those students (including an iPad Pro and Apple Pencil!), and I hope you'll consider joining one of my classes. All you need is the comfort of your own home and a Facebook account! Oh yeah, and don't forget that coupon code I mentioned earlier!
Happy Quilting!
Be great to each other.
-Karlee