Hi everyone!
I know it's been a little while
since I have blogged.
If you follow my Facebook
or Instagram,
you'll notice that something that has been
extremely prevalent in my life lately
is the circulation of a photo of my quilt titled
"Shimmering Symphony"
Along with that publicity came
NUMEROUS inquiries about
how someone could purchase this quilt,
or one just like it.
(No joke, it was like 7-8 emails A DAY from people asking to buy it.)
Unfortunately, there is only 1 single Shimmering Symphony quilt.
Now, obviously, that was a really hard question to answer,
especially in terms of how much it would cost to purchase it.
So,
I did some math.
Because this quilt is decked out like a Katy Perry costume
with genuine Swarovski Crystals,
All of the materials alone cost me about $370.
(1,476 Crystals and 330 beads along the bottom, plus fabric, batting and thread)
The other aspect I took into consideration was how much time I spent on this piece.
Because it was an original composition,
and designed around a specific theme,
every single little element and detail was extremely thought-out and considered.
Countless filler patterns were auditioned,
and the color scheme was deliberate.
This wasn't a quilt that I just sat down
and busted out from start to finish in 1 or 2 sittings.
After calculating all the time spent,
Starting with the first drawing in my sketch book
and ending when the last bead was strung along the bottom,
the total time spent was roughly 190 hours.
Based on the amount of time that I have been quilting
I think it is safe to say that I have a Bachelor's Degree in Quilting.
If most 4 year degrees make at least 20$ an hour,
then this quilt would cost $3,800.00 in labor.
I know that number sounds like a lot to swallow.
Here is the 2nd caveat that I faced when contemplating selling this quilt.
I LOVE THIS QUILT!!
It has traveled with me across the world.
It has been used in my trunk shows as well as an example when I teach.
It has won multiple awards.
And in a lot of ways, skyrocketed my career
not only as a quilter, but as a fine artist.
I'm not super eager to sell it.
(at least not for merely what the time and materials cost)
BUT!
I AM super eager to share the artistry and aesthetics
of this quilt with those of you who want it.
I have felt overwhelmed with joy from the amount of
kind words and compliments that I have received on behalf of this quilt.
It truly has been so amazing,
and I wanted to come up with a way that I could share my love for quilting,
and art in general, but in an affordable way.
SO!
Here are the options that I have come up with…
P.S. Every single option is UNDER $200
and is available in time for the holidays.
As I list the options, you can click the image to be taken straight to
the corresponding product page.
Option 1:
Shimmering Symphony Fleece Throw Blanket.
This blanket is created from a direct photograph of the original
Shimmering Symphony quilt.
While it doesn't have all the actual crystals on the quilt,
It has 2 layers of EXTREME snuggliness,
the top layer of the blanket is fleece and the backside is white sherpa,
captures the essence of the quilting and craftsmanship
and comes in 3 different sizes!
If you don't LOVE the original design,
I have also offered this design in a rainbow color scheme
sans the quilting designs-
Or,
in a red color scheme.
(If you have specific colors in mind,
just contact me and I'll create a listing just for you at no additional charge.)
Option 2:
Shimmering Symphony Tapestry
The tapestry is different from the blanket in that it is much like a poster.
All 4 sides have an under-turned binding making it
ready to hang on the wall from the moment you get it in the mail.
It is available in all 3 variations like the fleece blanket,
and also in 3 different sizes
making it fit your desired wall space perfectly.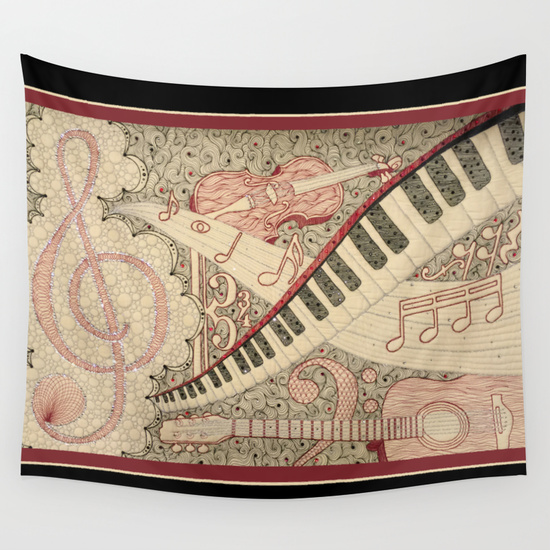 Option 3:
Make a finished, 3-layer, traditional quilt out of a purchased tapestry.
If you have your heart set on having an actual quilted quilt,
but the original quilt is beyond your budget,
You can purchase ANY tapestry listed on
www.KarleePorter.com
and then have it quilted and bound.
If option 3 is right for you, contact me and
we can work out the details.
Option 4:
Shimmering Symphony Duvet Cover
If you love the idea of this design adorning your bed
but you're like me and need a
GIANT DUVET WEIGHING YOU DOWN AT NIGHT TO KEEP YOU WARM
Then the duvet cover option is perfect for you!
It comes in a full, queen, or king size,
and is ready to slip onto your existing duvet and looks instantly fabulous.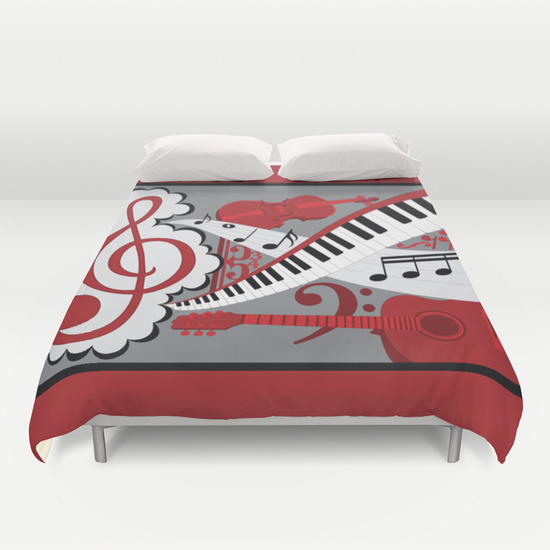 Anyway,
I just want to reiterate, again
and again and again and again….
HOW GRATEFUL I AM
for the outpouring of love and encouragement I have received
throughout my creative process.
I truly hope that I can share myself with you all
for many years to come!
Thank you so much!
Be great to each other!
-Karlee