Ever since I started quilting, I always marveled at how amazing a Lone Star quilt was. But I was also super scared to try and make one! I am not much of a piecer, but the Lone Star was always so compelling to me. I looked around online for a pattern, but then I also learned about myself that I really struggle to follow patterns. It's not that I am dumb… it's just that my tolerance for authority is so low that I am too lazy to listen to instructions! Lol. I know for sure that I don't apply myself if the path is already all laid out for me. Sometimes it just takes the adventure out of the process. But I also realize that in order for a pattern to work, the math has to make sense. And Math also takes the fun and adventure out of things sometimes.
So, after looking at a few YouTube tutorials about how to make a lone star quilt, I just decided to wing it. I decided to use some kaleidoscope solids from Alison Glass. I really love these fabrics, and they seemed like they would be great to work with because they are solids and have a little bit of give to them. (Little did I know because I am such a piecing novice, fabric having "give" is not necessarily the best thing, especially when you are working with the bias, as one does with a Lone Star quilt.)
Finally, I was able to make each of the 8 lone star diamonds. For the fabric in between each of the points, I had the most genius idea- to use some of Giuseppe Ribaudo's Quantum fabric! I fussy cut two different prints and used each side in the pits between each star point.
I really didn't want to cut off very much of the quantum fabric, and so you can see that there is more space underneath each piece. So at this point, I had to figure out what to put in those spaces so that the quantum fabric would look like a secondary star with points between each of the lone star points. That was really fun to use this fabric in such a beautiful way.
Now, because my piecing was not perfect and my math was barely mathing, My quilt top was NOT laying flat. There were lots of waves going on and I knew that when I got it to the quilting machine, it was going to be… tricky. So, to try to mitigate as much waving as possible, I got the quilt top all wet and pinned it to the carpet in an effort to stretch and tug it here and there. I clearly have no idea what I am doing.
So, just to get the quilt top to this point was about 2.5 years of getting it out, and putting it away, and getting it out and putting it away. It's like I was piecing on eggshells around it, and just constantly begging it to not completely fall apart on me at any given moment. Don't ask me to publish a piecing pattern based on this quilt. It ain't happening.
Fast forward from 2018, when I first started this quilt, to 2022, when I had the courage to get it out again, while hosting a sewing retreat at my house. I had talked about it, and how I wanted to finish it someday, and Susan and Emily encouraged me to get it out and see where it was in the process. And of course Nate had to give his two cents, which I loved. Thanks, Kristen for snapping this photo.
At this point in time, the quilt was octagon shaped. I was so eager to quilt it that I almost left it that way. But I knew in my heart of hearts that for how much effort went into this quilt, I would want it to be large enough to snuggle with and be warm under. I couldn't just quite at this point. I also had a feeling that after quilting it, it would be a lopsided octagon. Once it is quilted, it is frozen forever in time… and I didn't come this far just to come this far. So we started laying out more of the Kaleidoscope fabric and auditioning what we might do as far as borders would go.
During this retreat, I did some fun IG stories documenting this process further, so instead of typing all that out, I want to send you there to watch it all unfold. Watching a movie is way more fun than reading the book anyways… so click the link or image below and watch that and then come back here for my final thoughts on this whole shebang.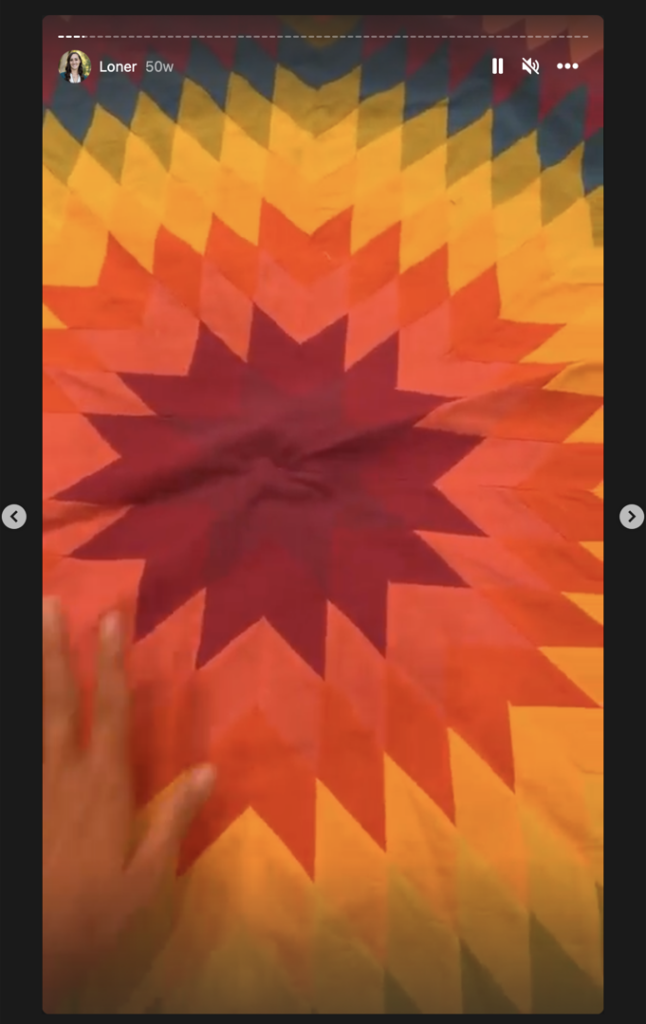 Click here to watch the rest of the story.
So, here is a gorgeous photo of the finished quilt…
And it is NOT perfect. Like, not even close…
When I quilted the center motif, I honored the piecing seams expecting it to make a circle. It didn't.
I pressed and pressed and pressed the quilt top before quilting, expecting it to obediently not have gathers. It didn't.
I used a ruler to stitch in the ditch, expecting the stitch to STAY in the ditch. It didn't.
I expected that wherever there were waves, I could just "quilt it out" so it would flatten. It didn't.
And some of the seam intersections were just downright bonkers.
But at the end of the day, this quilt is still gorgeous- flaws and all. Life is still gorgeous. Flaws and all.
Each corner is unique and different, but all are composed with exactly the right quilting designs that they're supposed to. They mesh together and ebb and flow, like the seasons of life.
And this quilt achieves one of the most important things. It is soooo snuggly.
I used a fleece blanket from Walmart for the backing and I have zero regrets.
I named this quilt Loner because it taught me something valuable. I can follow patterns if I want. I can take other's advice if I want. I can accept help along the way. But at the end of the day, my path is my own. I may walk hand in hand with others, and lift others along the way. But I will be the only one who will wear my shoes, and stand in the place that I'm standing. I can be a loner but not alone. I can own myself, but choose to share myself. I can give of myself without giving myself away. And at the end of the day, I can love myself. Flaws and all.
I will cherish this quilt for the next thousand years. Flaws and all.
-Karlee