In the almost 7 years that I have been a quilter,
I have attempted to make a quilt for the hubby and I
maybe once or twice.
The first time I tried,
(about 4 years ago)
the quilt top I spent about 15 hours piecing got ripped in half
right before my eyes by someone who thought that the piecing
was not good enough for a bed quilt.
Yep, that happened to me.
(That will be a blog post for another time…
when I finish the top, or can even look at
the 2 halves without crying.)
So a few years have passed,
and even though my piecing has improved tremendously
this quilt top was created without piecing a single seam.
Yep!
Believe it or not, this is a whole cloth quilt.
Here is the reverse side: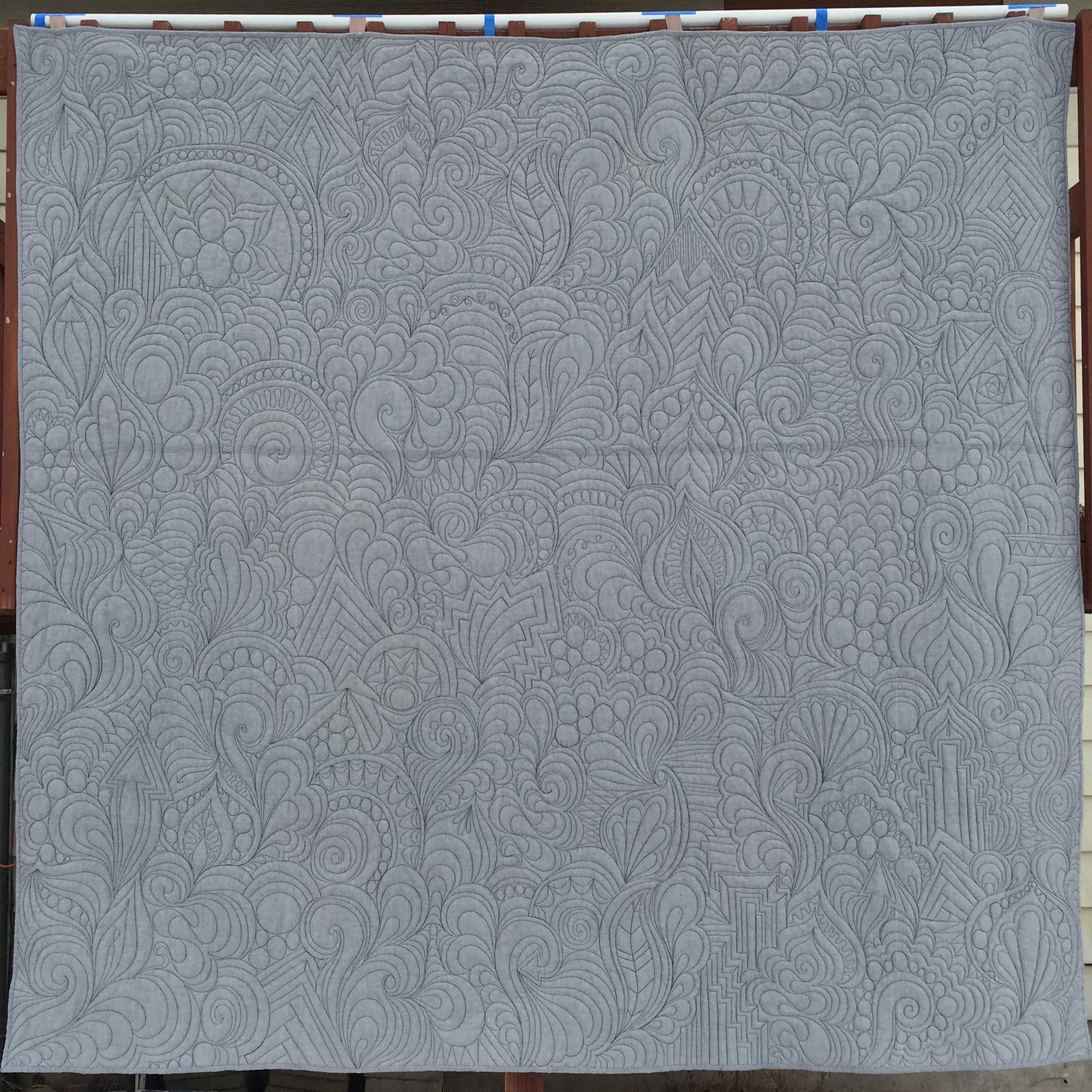 Here is the process.
It started with a swatch of colors and some quality time
with my homeboy, Adobe Illustrator.
I am so in love with this color scheme
I have a hard time thinking that I will ever use another color scheme again!
With that palette, I created this design:
Now I am sure you are wondering how I got a
digitally created design into fabric form.
But if you have seen any of my previous work,
you'll know that this is probably my favorite way to create quilt tops.
There are a few reasons I love printing my quilt tops:
I love quilting A LOT MORE than I love piecing.
I am way better at quilting than I am at piecing.
I had a knack for computer graphics long before I started quilting,
and when I create my designs digitally, the artistic possibilities
are almost endless.
I don't even know how to do curved piecing.
Bahaha!
Lastly,
I loooove creating my quilt tops and having them printed
because when I am finished with the quilting,
if I love the quilt enough, I can just print out another quilt top and make it again!
So, if you love this quilt,
and you want to make one for yourself,
you can order your own copy
of the quilt top in a few different sizes here.
Anyway,
This quilt has become super sentimental to me because it is
technically the first quilt that I have ever made for mine and hubby's bed!
To make it even more special, the the design itself
expresses the personalities of My Better Half and I quite perfectly.
It is reversible, and both sides look beautiful when it is laid nicely across our king size bed.
The front side is colorful, edgy and loud!
…
Just like me.
I used monofilament thread because I wanted to quilting to stand out equally
as it laid on top of all the drastically different colors.
I feel like this was also a good representation of my personality
because for me, the colorful moods and tones are much more prominent than the fine details.
With me, what you see is typically what you get.
I wear my heart on my sleeve
and most people can read my emotions like a book!
The quilting is quite intricate, but you can only see it
and appreciate it when you do a little work and look a little closer,
beneath the surface.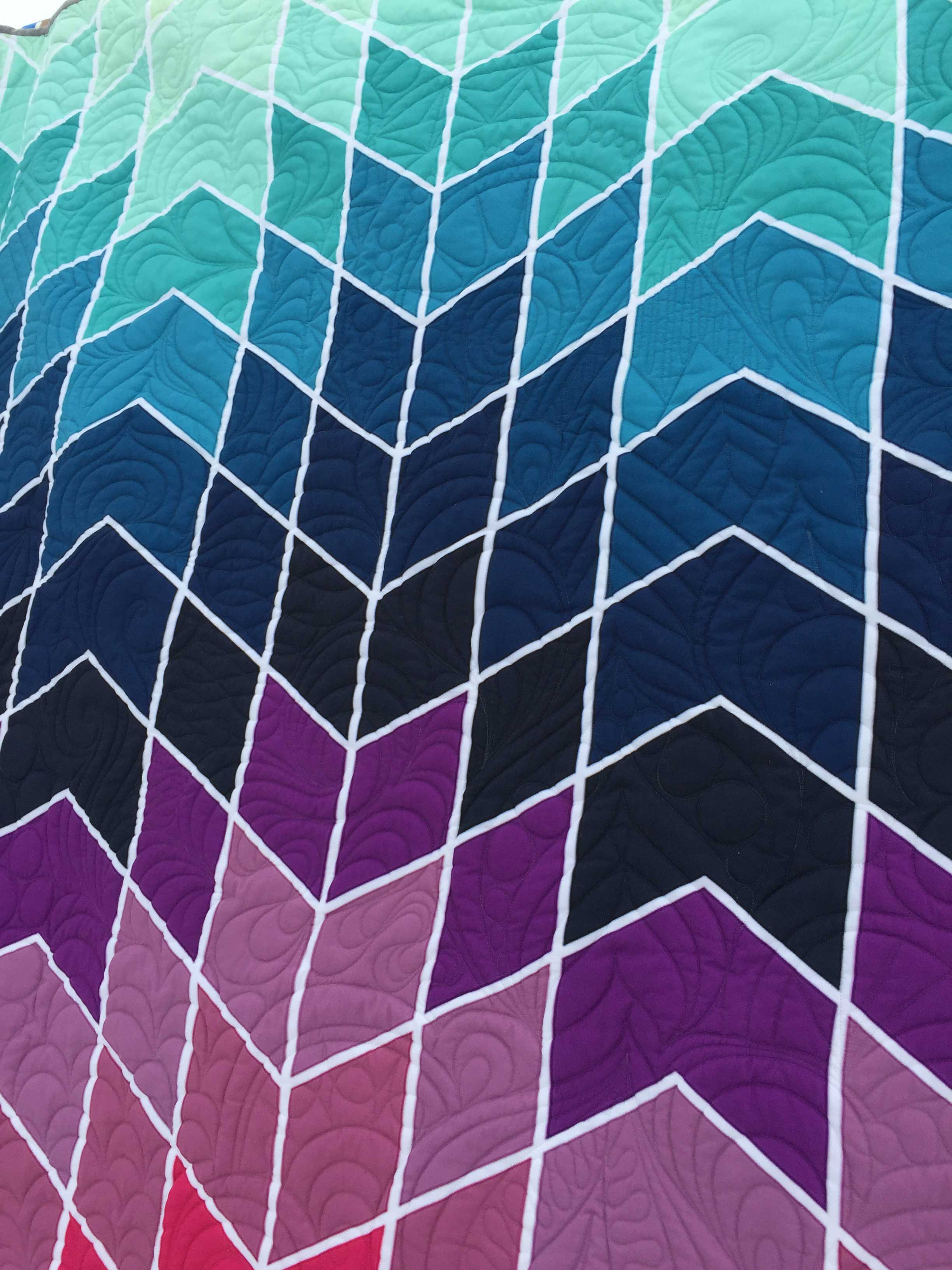 I would say the other side is equally as beautiful, but in it's very own way.
My sweetheart is much more calm, reserved, and leveled out than I.
He is consistent, smooth and thoughtful.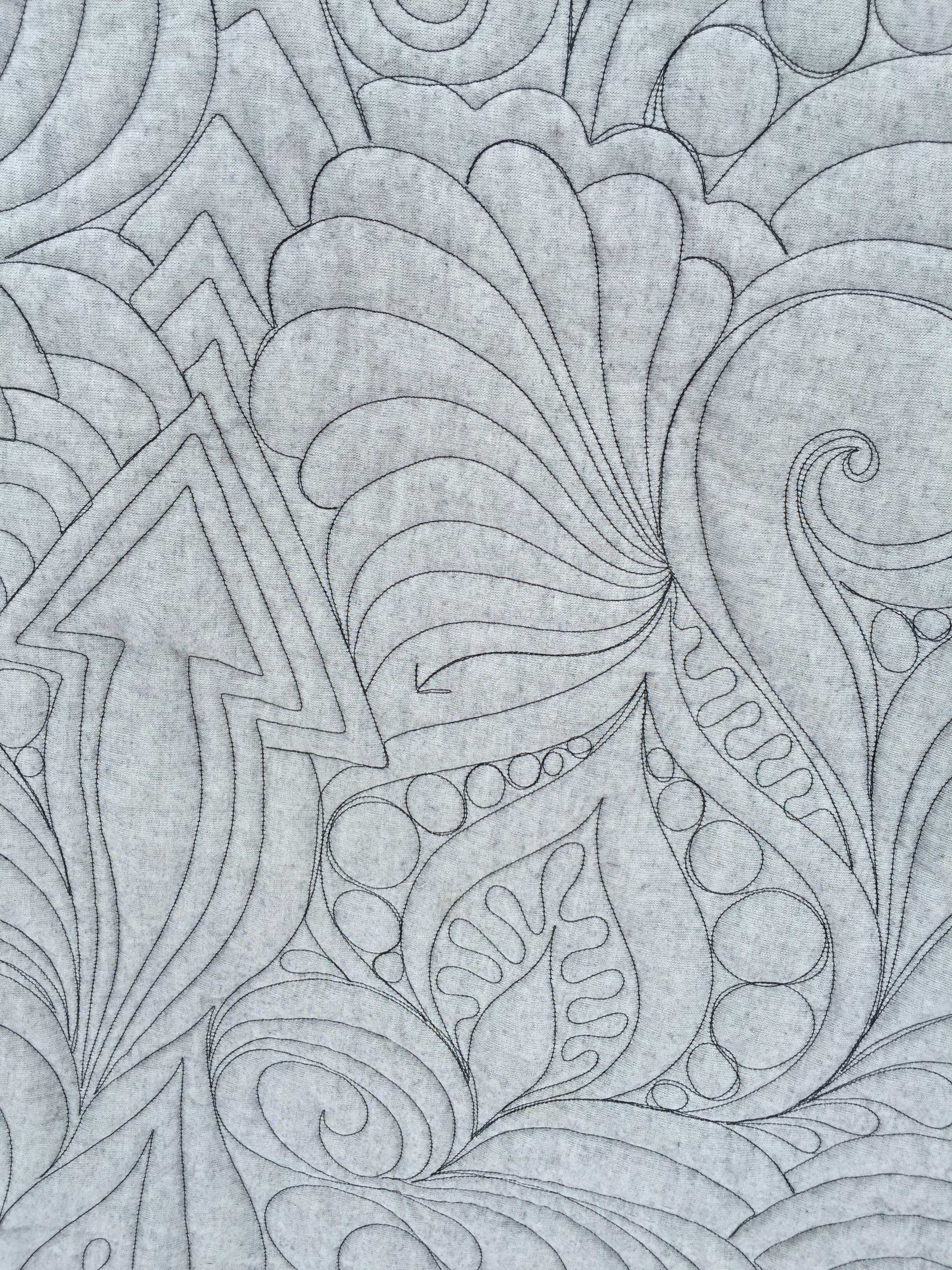 The actual backing fabric is just beautiful.
I wish I could tell you what it is.
But I don't know.
It is a hand-me-down from my beautiful mother's
old sewing room.
It is some sort of weave, it has a tiny bit of stretch, but really not much.
It was lightweight and really silky feeling, but not shiny.
Haha… I'm not very good at this.
But it is grey and elegant and soft and beautiful.
And frayed around the edges.
I chose to use black thread in the bobbin
to compliment the ashy grey fabric.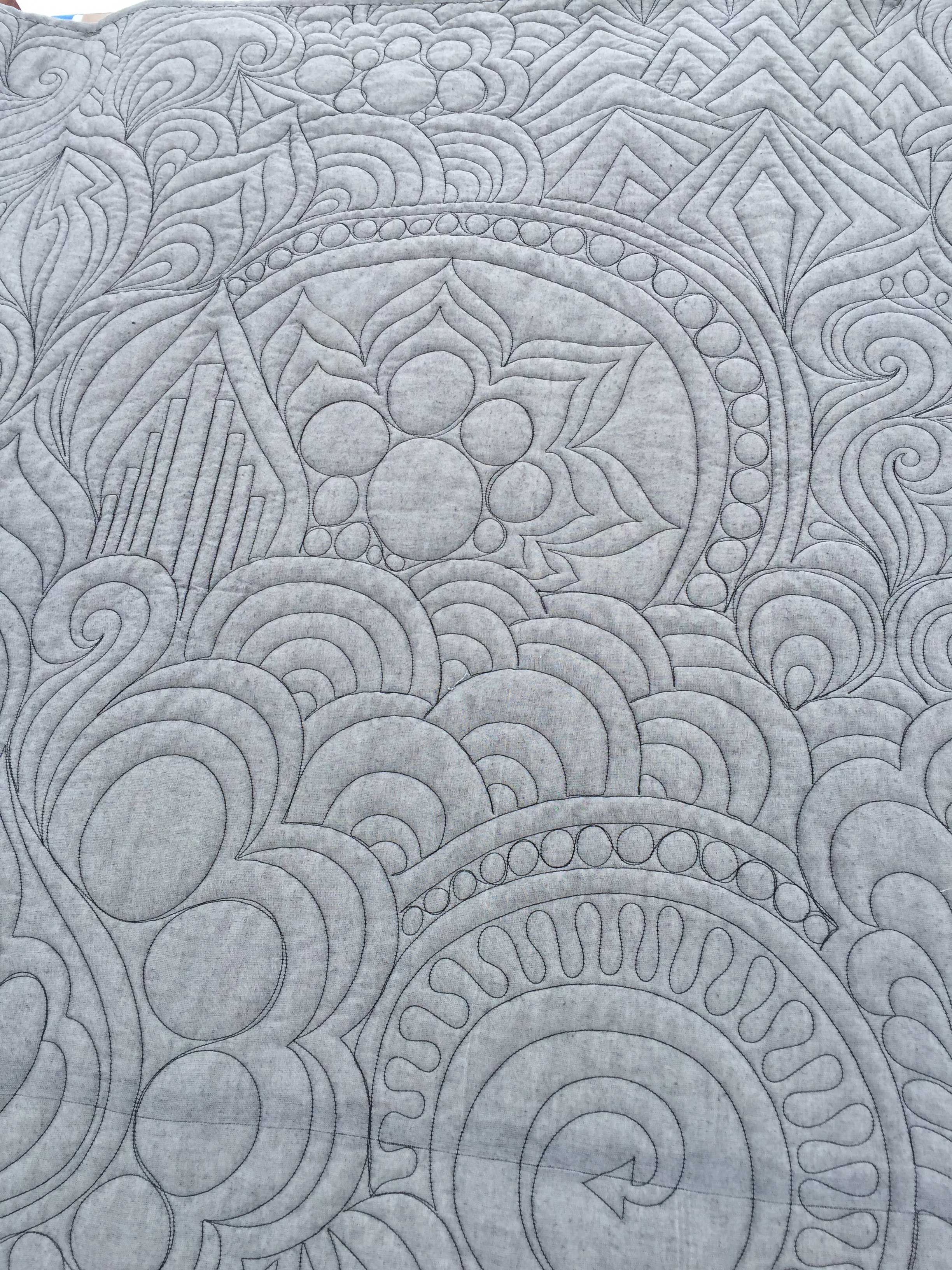 I have always known that using a contrasting thread color
allows everyone to see every tiny little quilting detail
as well as any faux pas.
But, we all make mistakes.
And I didn't think it was worth blending the thread and making the quilting
less visible just to hide a few minor misalignments.
Finally, I finished the quilt with a
double fold french binding.
I love this quilt so much
and after making so many show quilts and wall hangings,
it just feels really good to actually cuddle up and share one of my own quilts
with the most important person in my entire life.
I love you, A!
Thanks for reading, everyone.
Be great to each other!
-Karlee